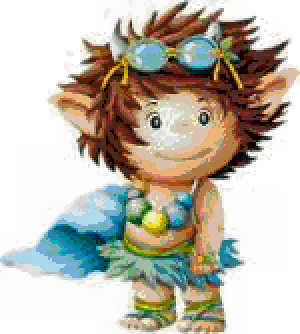 Some people say Iím cute
And others say Iím sweet.
Some like the ribbons that I have
Wrapped around my feet.
There is one thing I do not like
And is one of my greatest fears.
When they come up behind me and tug,
Making fun of my beautiful ears.
Yes, they are bigger than normal,
And poke out from my light brown hair;
But I hear better than most folks
With my lovely ears, a pair.
I donít think theyíre that big.
I think they fit me quite well.
They match my glasses and string of beads,
With the tiny ringing bell.
My skirt is like a hula girls;
My bracelet has stones shaped like tears.
But nothing sets me quite apart
Than my beautiful pair of ears.